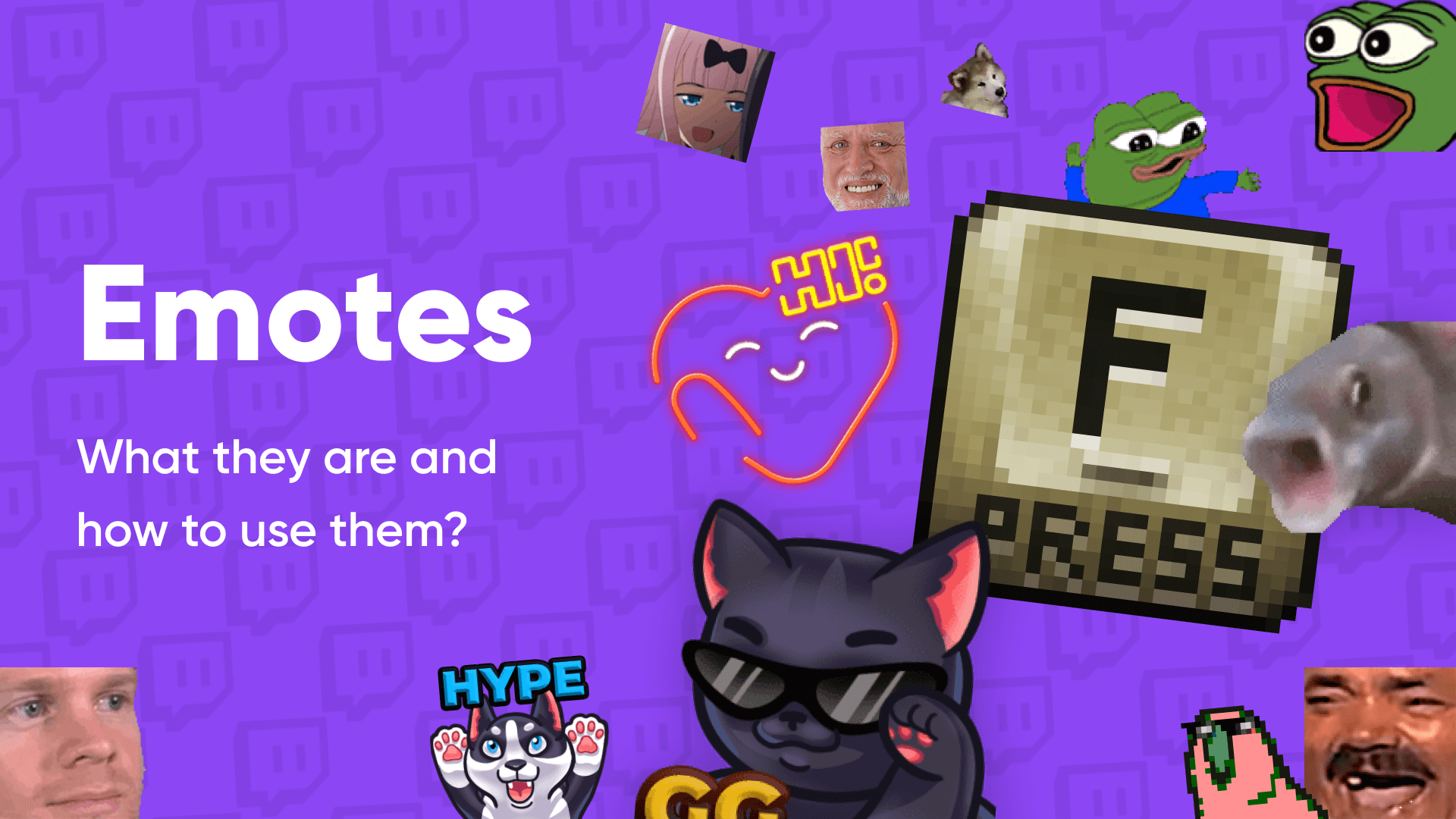 Twitch emotes
are used by viewers and streamers to express various emotions in chat. It's comparable to how you'd utilize an emoji in an instant message. The only difference is that on Twitch, they've taken on a life of their own. They allow followers to relive spectacular moments, laugh at embarrassing situations, spread love in a chat, and become active members of your community. While viewing a stream, emotes are utilized as a way of communication or response in Twitch chat windows.
---
Reasons to Use Emotes
This is one of the most effective strategies to encourage chatting.

Twitch emotes are a great way to connect with your audience and boost your brand.

By spreading your unique emotes like wildfire, they make the ordinarily difficult process of gaining popularity easier.

Psychologically the more viewers watch you, the more inclined they are to support your channel by reacting to what's going on during your stream with your emotes.

Twitch emotes are given out as a thanks for watching your channel, which is something that fans appreciate.
Subscriber Emotes
Twitch subscriptions are divided into three tiers. The first one costs $4.99, the second $9.99, and the third is $24.99. While most subscription benefits are available to all tiers, tier two subscribers receive one additional emote. In contrast, tier three subscribers receive two additional emotes. This means you can encourage your viewers to support a channel through a financial contribution by rewarding them with exclusive emotes and other perks.
Remember that you must be a Twitch Affiliate or Twitch Partner to be allowed to add custom emotes to your channel! You can also get custom emotes on your channel by using browser extensions (more on this further down).
To manage your emotes, head to your Twitch Creator Dashboard.
Follower Emotes
Starting from 2022 all Twitch Partners and Affiliates have access to five followers emotes, that viewers can receive by following a Twitch streamer. Follower Emotes help creators expand their fanbase by providing a nice, free incentive to hitting the "Follow" button. Once Follower Emotes have been applied, viewers will see this message in Chat.
Emotes provide you the opportunity to turn long-time fans into monthly subscribers. After all, you're offering them a sneak peek at the benefits of becoming a subscriber! It won't be long until some of your non-subscribers realize it's worth it to subscribe to gain access to even more emotes and perks.
Keep in mind that follower emotes can only be utilized in the channel they've been unlocked; thus, they won't show up outside of that channel.
Follower emotes, like subs emotes, can be applied through your Creator Dashboard.
Twitch Emotes Size 
The auto-resize feature will resize each item for you. You only need to upload a single square image file under 1MB in size and measures 112x112px to 4096x4096px. This file will then be automatically scaled to fit additional dimensions.
Toggle auto-resize off if you'd rather upload each size separately. Twitch requires you to post emotes in all three dimensions in manual mode so that they can deliver the correct emoticon to viewers regardless of their device.
The following sizes are recommended for Twitch emotes:
28 x 28 px for web
56 x 56 px for retina display
112 x 112 px for larger screens
The emotes must be uploaded as PNGs or GIFs with a transparent background. Each emoticon can have a maximum file size of 1 MB.
Learn more technical details about emotes in our Emotes Setup Tutorial.
How To Get Twitch Emotes Without Affiliate And Partner
If you don't have Affiliate or Partner status you can acquire emotes for your stream in one of three ways:
These are browser plugins and extensions that link to your Twitch account and allow you to use different handy features such as emotes without Twitch Partner or Affiliate status. These tools provide you with a large number of global emotes to use in your stream or you can easily upload your own.
It's worth noting, though, that in order to utilize these emotes, your viewers will need to have these extensions installed on their browsers as well.
Check this video to see how to add custom twitch emotes to your channel.
In Conclusion
When we are speechless — emotes help express emotions. Get these cute images to help your community demonstrate when they feel based or cringe. Explore our twitch emotes library to choose the right one for your channel identity.