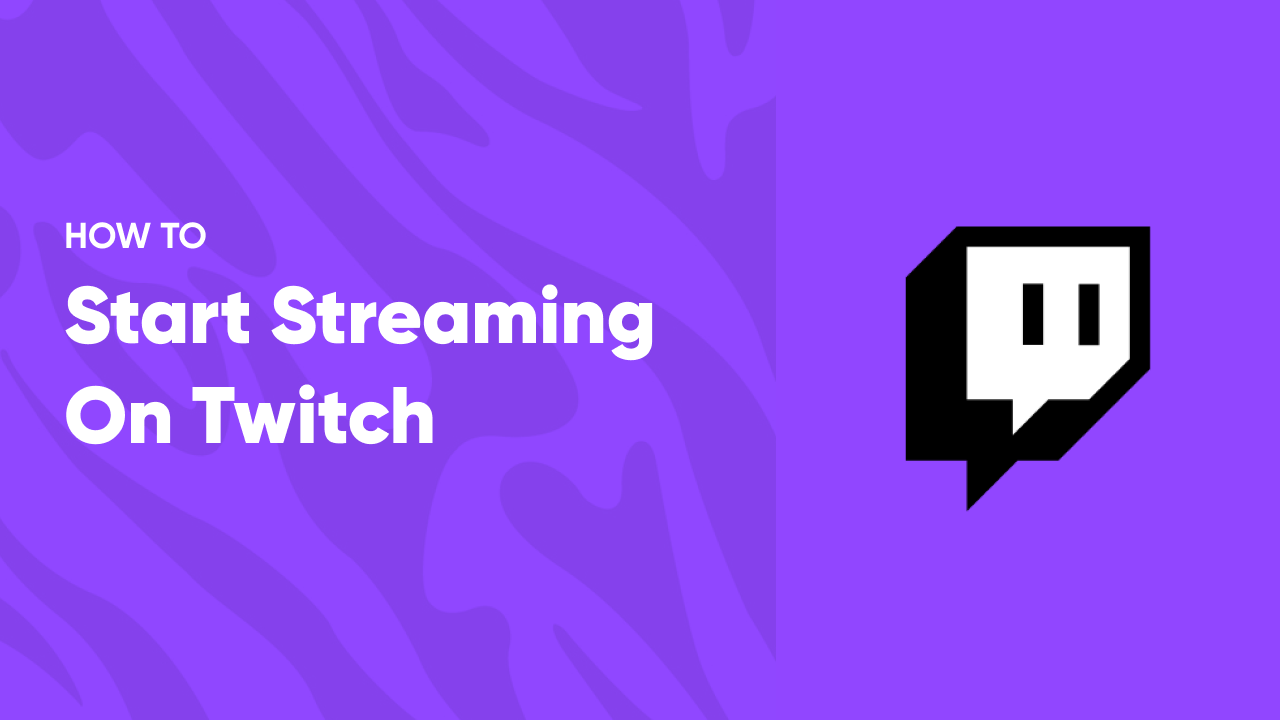 Thinking to start streaming on Twitch and don't know where to start? Doubts aside! We distilled the most important information about every aspect of live streaming craft - from technical setup tips to establishing your personal brand and growing the audience. Grab yourself a cup of tea and let's dive into the ultimate guide to the live-streaming world.
---
---
1. What Is Streaming?
Live streaming is a technology that allows you to broadcast yourself and lets others watch you over the internet in real time. You can stream anything - music performances and DJ sets, all kinds of shows and podcasts or, most importantly, your own computer or console screen when you play video games.
Not only your viewers can watch your broadcast, they can interact with you in the chat and react to what's happening - all of that in real time too, it's a blast!
Why do millions of people stream regularly? Full answer will take a whole another article but, to cut it short, it allows you to share your interests, connect with other like-minded people, show your gaming or entertainment skills and, most importantly, earn money (more on that later in the article)
2. Is It Possible To Become a Successful Streamer In 2023?
Well, it all depends on you, your style, charisma, patience in particular, and a variety of other aspects. Everyone begins streaming on Twitch to an empty audience, which might bring your motivation on start to naught. But let's have a look at the numbers:
That's a lot of people to reach out to, and the numbers are only increasing: some analysts suppose that the number of people watching live streams will grow to 920.3 million by 2024. So, we believe it's time to hop on this train! Becoming a 'successful' streamer requires you to be organized, disciplined, amusing, worth watching, and after all, it requires your time. Just like any business - you need to put in the work. Depending on your personal situation, it could take from a few weeks to a few years. But if you enjoy what you do, and are willing to put in an effort, then yes - it's possible and definitely worth it.
3. Set Goals for Your Streaming Path
"There is only one way to eat an elephant: a bite at a time," Desmond Tutu wisely said. You can't devour an elephant with a few big nibbles, no matter how big your initial few bites are. So the steps to achieving your objectives should be consistent. Make a list of your goals and a step-by-step plan. What kinds of goals you may set? Here are a couple of such examples: income, views, subscribers, frequency of streams, and other personal goals.
Tips:
Don't compare yourself to others. You're on your own path

Make all goals active, not passive

Establish goals that you can attain

Keep track of your progress
4. Personal Brand
What is a personal brand for streamers?
A personal brand is your own way of presenting yourself and your content to the audience and how you distinguish yourself from the others. At the same time it's a perception of you that others have based on facts associated with your name. This is something that other people will notice and perceive regularly. Your brand is a simple condensation of what you believe in and what you do. When building your personal brand, consider your personality, look, style of communication with your audience, and even the types of games you'll be streaming.
What kind of content should you stream?
The easiest route to stay on track is to broadcast something you enjoy doing, whether it's a hobby or a game you enjoy playing. So:
Stream what you love. There's a good chance you'll spend more time streaming, even to a small group of people.
Stream content you can generate regularly. Because consistency is so vital for streaming, it's ideal to keep to a schedule as much as possible.
Consider varied content strategies. Feel free to jump between gaming, just-chatting, creating art, etc. As a variety streamer, your personality is the primary draw.
Who's your audience?
Knowing who is interested in your stream helps you reach and attract similar people. What do they love? Where do they spend time browsing online? Answer these questions and think about how you can get their attention. Your social media networks may become the central focus of your stream's marketing efforts. Also, join different social media communities, lurk Reddit and Discord Channels.
5. Set Up a Space
While streaming, the room you're in will create the tone for your streams and express yourself to the audience. Choose a theme that reflects your personality. Using the same background each time also helps develop a more consistent presence in your viewers' minds.
Try some of these background design ideas to make your broadcast more interesting: 
Paint the wall behind you with an intriguing accent color to help you stand out on camera.

Place shelves in the background and fill them with amusing trinkets or books that reflect your individuality.

If you can't do anything permanent with your live streaming studio space, try removable artworks or panels.

Construct a portable wall out of wood panels and then decorate it with wallpaper or paint.

Use the chroma-key (green screen) with a digital backdrop to control your studio background completely (more on that later in the article).
Check our guide on how to set up a perfect room for your streams to learn even more insights!
6. Let's Make It! Creating a Twitch Account
Go to Twitch.tv and click the Sign-Up button in the top-right corner of the page.

Create a unique username.

Download the Twitch mobile app on your mobile device.

Turn on two-factor authentication.
Review the Community Guidelines And Terms of Service
You should read Twitch's legal section from start to finish, if possible. However, there is a lot of jargon, so read the community guidelines at the very least. Read the instructions before creating an account, and bookmark the page to come back for updates.
Ensure you understand the Twitch community guidelines before signing up for an account and become aware of the behaviors that constitute violations. In that case, you'll be better equipped to avoid penalties and keep your stream running non-stop. 
7. Customize Your Channel
A significant component of becoming a streamer is setting up your channel page. This will provide information about you and your stream to your viewers and lurking users.
1. Banner and userpic
Upload a Profile Picture and a Profile Banner. These are two of the most visible components of your profile. These images will be one of the first impressions you create on viewers.
2. Overlay
Twitch overlay is a visual that streamers use to make their twitch streams function and look better. It's a design that sits on top of the webcam and game capture window, and it can be animated or static. An overlay gives your stream a more professional appearance and improves the viewing experience.
Nothing is a 'must' when it comes to an overlay, but a decent one has the following features:
Stinger Transition. A transition between scenes. Check out our amazing free transitions pack.

Stream Offline Banner. Instead of the default screen, it shows the offline status.

Stream Alerts. Interactive on-screen notifications that can do anything from greeting a new viewer for following to congratulating a Hype Train in chat. Add moods of modern megapolis and traditional Japanese symbols with Neon Japan Alerts.

Stream Background. For those using chroma key on stream.

Stream Screens: Helps to inform the status of the stream. For example - Stream Starting Soon, Stream Ending Soon, Be Right Back, Intermission and so on.

Webcam Overlay. A camera border that separates your webcam footage from game or any other content. Try this awesome pack for free.

Header Overlay. A multifunctional static panel on top of the screen.

Stream Labels: Static or interactive panels that display significant information.
Get more details on what is a twitch overlay in our guide.
3. About section and Twitch Panels
Panels are images that live under the About section of your Twitch channel. They can be used to introduce yourself, link to your social media accounts, and market your own (or sponsored) products. Some common Twitch info panel types and purposes: About Me, Streaming Schedule, Donation Panel, Social Media Panel, Sponsor Panel, Merchandise Panel, etc.
Looking for twitch panels? Look no more! Welcome the biggest ever Twitch Panels Mega Bundle. This FREE pack has a ridiculous number of 720 panels in total!
4. Emotes (Only Affiliate/Partner or via Third-Party Extension)
Viewers and streamers use Twitch emotes to express various emotions in chat. It's similar to how an emoji might be used in an instant message. They enable your followers to remember incredible events, laugh at awkward situations, spread love in a discussion, and become active members of your community.
Take a look at the Cat Emotes bundle to see the example. To put up emotes on your channel, you must first have an affiliate or partner status. There are, however, a limited number of options for obtaining them without these. Take a look on how to do it in our Twitch emotes guide.
5. Badges (Only Affiliate/Partner)
When someone subscribes to your channel, they'll get a subscriber chat badge, a small icon next to their name that appears when they participate in the conversation. Your subscribers will reach milestones with upper-level badges as they spend more time watching your channel. Become a Twitch Affiliate or Twitch Partner to earn sub badges.
8. Optimize Your Streaming Setup
For newbies, setting up a streaming setup can be difficult. There's no shame in admitting that the technical side of live streaming might be difficult for the majority of us to grasp.
Don't give up! We'll tackle all the complexities of streaming below. We'll go over how to set up a live stream, what gear to think about, and how to get it all up and running.
1. Choose the Right Streaming PC
You don't need the most up-to-date components in your streaming PC, but it will ensure that you can play the most recent games in the best possible quality. It's also worth noting that if you're streaming first-person shooter games like Call of Duty, Valorant, or CSGO, you don't want to experience FPS decreases because it will damage your gameplay.
Let's go over everything you need to know to buy the proper gaming system step by step. 
2. The Best Graphics Card for Game Streaming: GeForce RTX and More
A graphics card's main function is to send data from your CPU to your monitor. It also processes data that a CPU is unable to handle. This is due to bandwidth and memory access limits affecting CPU power, making an excessive effort required by modern games. This means that high-end graphics cards need a high-performance CPU to work and reach their full potential.
Here's a list of our preferred graphics cards for Twitch streaming that we think will help you push your gaming skills even further:
MSI NVIDIA GeForce RTX 3070 Ventus 3X OC

AMD Radeon 6900 XT

MSI NVIDIA GeForce RTX 3090

NVIDIA GeForce RTX 3080

NVIDIA GeForce RTX 3060 Ti
Best budget graphics cards for streaming:
Gigabyte Radeon RX 5500 XT

XFX Radeon RX 570

PNY GeForce GTX 1650

EVGA GeForce GTX 1650 Super

Nvidia GTX 1060-3GB
3. The Best CPU for Streaming: Why the Processor Is Key, Too
The central processing unit (CPU), often known as the "processor," performs input/output activities, basic arithmetic, and logic to carry out and control the computer program's instructions. The CPU is an essential component of any computer since it receives, directs, and processes data. When it comes to streaming, the CPU is the key. That's because it bears the brunt of the load that comes with playing and streaming the game simultaneously. The more powerful the processor, the more efficient the streaming. As a result, if you want to stream with minimal hiccups, it's critical to have the finest CPU within your budget. Although CPUs are long-lasting and can live for years with proper care, PC technology constantly changes. When paired with compatible current hardware, newer gaming CPUs use faster clock rates, larger cache sizes, and higher thread counts, resulting in better performance.
The list below will give you a quick look at our selections for the 5 best CPUs for streaming currently available on the market:
AMD Ryzen 9 5900X

Intel Core i7-12700K

AMD Ryzen 7 5800X

Intel Core i9-10900X

AMD Ryzen 5 5600X
Best budget CPU for streaming:
AMD Ryzen 5 3600

Intel Core i5-10400F
4. Good Internet Connection
When you generate content and wish to share it online, the upload rate of your connection is the most crucial factor. It's the same as the download rate, but it shows how many bits of data you can share per second instead of the other way around. While streaming live video in 720p at 30 frames per second, you can upload up to 4,160 kilobits (or 4.16 Mbps) of data per second. But we recommend having a 40% buffer. That means that 5.7 megabits per second will be perfect for streaming. However, if you are confident in the stability of your internet connection, a buffer may not be required. Keep in mind that a steady connection is just as vital as upload speed!
Tips:
Establish a hard-wired connection.

Remove any devices that aren't needed from your network.

Close excessive programs and apps on your computer

Use ad blockers and privacy tools to remove possible malware

Make use of the most recent software and hardware.
5. The Best Microphones
If you want to build a name for yourself as a streamer, you'll need crystal clear audio. If you're just getting started, headset mics are acceptable, but if you want to take your already devoted audience to the next level, you'll almost certainly need one of the best microphones for streaming.
What should you know about mics?
Frequency response. The frequency range that your microphone can grab. From the lowest to the highest frequencies, it is measured in Hz and kHz. The top streaming microphones typically have a frequency range from 20 Hz to 20,000 Hz.

Polar pattern. The innate sensitivity to the direction of auditory waves, is also known as directional property. Simply explained, a polar pattern is a microphone's capacity to pick up your speech from various angles. Cardioid one is the best polar pattern for streaming.

Connection method. There are two most prevalent mic connection methods for desktops - XLR and USB type. To use an XLR microphone, you'll need to purchase a mixer or audio interface, because an XLR microphone cannot be directly connected to a computer. But with this additional expenditure, you have more control over the sound, resulting in improved overall sound quality. So it's definitely worth the effort. USB mics are more accessible but still weaker and short-lived. Also, you should know about TS/TRS/TRRS-based microphones. This form of connectivity is intended for use with mobile phones and tablets.

Pop filter. Often known as a pop screen or pop shield. This noise-canceling filter has only one purpose: to prevent any popping sounds caused by airflow colliding with the microphone. When you use a pop filter on your microphone, the sound of your voice is cleaner to the listener.
Best mics for streaming in 2022
Shure MV7

Elgato Wave: 3

Blue Yeti X

HyperX Quadcast S

Razer Seiren X

Audio Technica AT2020
Best budget microphones for streaming
HyperX SoloCast

Razer Seiren Mini

Blue Yeti Nano

JLab Audio Talk GO

Rode NT-USB-Mini

Blue Snowball Ice
6. The Best Webcams
Making a solid connection with people on video chats or with an audience while streaming games requires presenting a clear image yourself. Most gaming laptops' cameras are typically the bare minimum of what you can use to get the job done. A dedicated webcam can provide a good image with negligible latency. Some go even further by supporting 60 frames per second or 4K video.
Best webcams for Twitch streaming in 2022:
Logitech C920

Razer Kiyo

Logitech C922x Pro Stream

Logitech BRIO
Budget friendly webcams for broadcasting:
Microsoft Lifecam Studio

Logitech HD Webcam C310
7. Lighting Equipment
If you want your stream to look awesome, you'll need decent lighting. You shouldn't just go out and buy the first kit you see. Instead, you'll need to select streaming lights that meet all of your requirements.
What lights do streamers use?
Softboxes may appear to be overkill — they are far larger than desktop lights — yet they create nice diffused light.

Ring lights have a shallow depth. Because of the circular ring-like form, you may set your camera in the center, facing you. They are the easiest to store, set up, and maintain.

LED panels spread lights over a large surface area. The main feature is the ability to control the brightness and the temperature.

Colorful LED lights turn an apartment into a snug gamer cave, flooding the area with waves of colors.
The three-point lighting technique
Three-point lighting is a classic technique for illuminating a scene with light sources coming from three directions.
Key light. This is the main source of illumination. It is the most direct and has the most power over the situation. The key light is used to highlight the streamer.

Fill light. Its purpose is to eliminate the shadows cast by the key light. The fill light is less intense and placed on the opposite side of the key light.

Back lighting. Used to light the streamer from behind. Its aim is to offer subtle highlights and definitions to the scene rather than giving direct lighting (like the key and fill do). The backlight is frequently set higher than the person.
If you have a fourth light, utilize it to illuminate the rest of the background.
Best lightning equipment for streamers:
Elgato Key Light

Nanoleaf Shapes Hexagons Smarter Kit

Philips Hue Bluetooth Smart Lightstrip

Neewer 700W Professional Photography 24x24 Softbox Kit
Best low-cost lights for streaming:
Neewer Super Slim

Cozylady Music LED Strip Lights

AIXPI 10-Inch Ring Light with 59-Inch Tripod Stand & Phone Holder

FitFirst Galaxy Projector Night Light
8. Dual-Computer Streaming Setup
Some professional streamers employ a setup that includes two PCs: one to play the game and a second PC with a capture card to collect the signal through HDMI.
Pros of dual-computer setup
A streaming PC can be a low-cost, low-power system.

Your PC will be less stressed, especially in terms of heat management.

There is less lag when there is less strain.

Higher-resolution games can be streamed easily.

Separating your broadcast from your gaming rig means you can't lose your stream if your gaming PC crashes.

Possibility to upgrade your stream with more cameras and features.
Cons of dual-computer setup
More equipment means more electricity, which means more costs.

It's more challenging to set up and get running.

Among dual PC streamers, screen tearing is a frequent problem.

A second PC means a second set of fans, which adds to the noise level.
Unless you have a spare PC or you're not that far into your streaming journey one PC should suffice. Upgrade its components to ensure that it runs smoothly and you'll be good to go in any case.
9. Additional Tools: Capture Card
In essence, a capture card serves as a data receiver. It allows transferring video feed to a PC for processing. It's helpful when you have a dual-computer setup. And when you broadcast from a console and want to improve quality and extend streaming time. A capture card isn't necessary if you're only using one PC.
Top capture cards for streaming in 2022:
Elgato Game Capture HD60 S.

AVerMedia ExtremeCap U3.

Hauppauge HD PVR 2 Gaming Edition.

Elgato Game Capture 4K60 Pro

DIGITNOW 4K60 Pro
Budget-friendly capture cards:
Mirabox HSV3217

DIGITNOW Video

EVGA XR1 lite

UCEC GAM Live

DIGITNOW HDMI
10. Additional Tools: Second Monitor
A dual monitor configuration allows you to focus on the game on the first screen while controlling the stream and conversation on the second. Yes, you can do everything on one screen, but two screens make things much easier. The most important characteristic you should consider is monitor size, resolution, and refresh rate.
Best second monitors for Twitch streaming:
BenQ EW3280U

ASUS TUF Gaming VG279QM

ASUS VG279Q

Dell S-Series S2719DGF
Best low-cost monitors for streamers:
Acer SB220Q

Acer EB321HQU

LG 27QN600-B
11. Additional tools: Stream Deck
Elgato's Stream Deck is a live-streaming control pad with tons of customizations. It isn't required for streaming, but it makes doing stuff while streaming much more manageable. Basically, you bind a sequence of physical buttons to frequently used actions. Toggling mics, moving scenes in OBS, playing noises, and initiating actions in other applications like Twitter are the most typical uses for Stream Decks.
12. Additional tools: Green Screen
A green screen allows to apply extra effects to the video or build virtual backgrounds. You may make your background "disappear" by keying out the color of the screen with chroma keying. Then, to add a virtual background, you can utilize live streaming broadcast software or webcam software.
Best green screens for streaming:
Elgato Collapsible Chroma Key Panel

EMART Green Screen

Fancierstudio Green Screen Background
Best low-cost green chroma key for streamers:
LimoStudio Green Muslin Backdrop
9. Choose And Set Up Your Broadcasting Software
Sheesh, the hardware is ready. Time to talk about software! Streaming programs convert the video into a live-streaming format that is specifically tailored for internet transmission. Here are a few examples of what you can do with broadcasting software:
Smoothly add, duplicate, and switch between many cameras, microphones, capture cards, images, pre-recorded videos and other input sources.

Add video effects, including a "green screen".

Create different scenes, as well as transitions between them.

Add overlays to your streams.
Streaming software is similar to a train station: it's where your inputs (webcam, microphone, game capture) and outputs (stream) come together. But which one to choose?
1. OBS Studio
OBS Studio is a free and open-source video recording and live-streaming application available for Windows, Mac OS X, and Linux. OBS works in the following way: you create scenes by adding and mixing different sources. It may appear intimidating at first, but you will realize how simple and powerful the software is after learning how to use it.
2. Streamlabs Desktop
Streamlabs is a streaming app with a simpler OBS style. Designed with streamers in mind, it comes with a slew of features geared at improving the aesthetic appeal of a Twitch show and increasing audience viewership and interaction. Streamlabs can also be used on almost any popular streaming network, such as Facebook Gaming and YouTube.
Make your stream look incredibly atmospheric with the stream package by Kudos team available in Streamlabs library 🤟
3. Twitch Studio
Twitch Studio was created for newbie streamers, and it claims to make streaming easier. Everything, including broadcast quality settings, is simplified. It's compatible with both Windows and Mac OS. Twitch Studio is for you if you're unsure on how to set up your own broadcasting settings in OBS or other software
4. XSplit
XSplit includes several features that appeal to a wide range of streamers, including business and professional streamers. Although XSplit is not open-source or free, many streamers consider the user-friendly interface and numerous capabilities worth the purchase. While using the free version, the XSplit watermark will appear on streams and recordings.
5. vMix
vMix is live video production software for the Windows that transforms a standard computer into a professional video studio. It makes extensive use of the GPU and relies significantly on graphics libraries. The area where vMix excels is power users' needs.
Choosing the best free streaming software can be difficult. Compatible platforms, input sources, and user interaction are some of the main aspects to check for.
10. How To Stream To Twitch From Consoles Or Smartphones
Here's how to set up your console and mobile streaming devices if you want to join the less-crowded Twitch console and mobile broadcasting sector.
1. PS4 and PS5
The operating system for the PS4 and PS4 Pro has a "broadcast" feature. With a few clicks of the X button, you can automatically start streaming your games to Twitch and YouTube.
Make sure HDCP is turned off while streaming. To do that, go to Settings > System.

Set audio devices and the PlayStation Camera in Settings > Devices.

When the game launches, turn on the microphone's audio sharing. Press the "Share" button on the gamepad > Sharing and Broadcast Settings > Broadcast Settings > Advanced Settings > Audio Sharing Settings.

Turn on the chat in Sharing and Broadcast Settings > Broadcast Settings > Advanced Settings > Display Messages to Spectators and Spectators' Comments.

Link your PlayStation 4 to your Twitch account. The option to broadcast gameplay appears when you press the "share" button on your controller.
2. Xbox
Download and install the Twitch app.

Link your Twitch account to the app.

Allow everyone to see your stream. Go to Settings > Account > Privacy and Online Safety > Xbox Live Privacy > View Details and Customize > Online status & history > Others can see if you're online, select Everybody.

Enable broadcast feature in Settings > Account > Privacy and Online Safety > Xbox Live Privacy > View Details and Customize > Game Content > You can broadcast gameplay, select Allow.

Turn on sharing content with a camera In Settings > Account > Privacy and Online Safety > Xbox Live Privacy > View Details and Customize > Game Content > You can share content made using Kinect or another camera, select Allow.

Make sure your webcam and microphone are turned on.

Give your stream a title and click Start Broadcast!
3. Smartphone
Smartphones are less focused on streaming gaming content than consoles. Because Twitch's smartphone app only allows you to broadcast from your phone's camera, you'll have to rely on third-party apps if you want to cast mobile gaming. IRL streaming, or in-real-life streaming, is the practice of broadcasting non-gaming content. It can range from live broadcasting your talents or specialty hobbies to vlogging your travels and daily life.
Here's how to use your smartphone to live broadcast to Twitch.
Get the Twitch app and install it.

Open the app and log in.

Click the "go live" button next to your profile picture in the upper left-hand corner.
11. Promote Yourself
1. Social media
The major goal of sharing content is to give viewers a sample of what they can expect from your live broadcast, pique their attention, and spread your vibe. Yes, you can use social media to promote your live streams and post recordings of them. However, there's still more you can do to engage with your audience on social media and attract new followers. The main thing is to maintain a consistent brand voice, image, and tone by sharing content frequently.
2. Contribute valuable content to reddit
Browse a subreddit about your topic and join the community by assisting others or providing helpful information. If someone asks a question, respond with a well-written answer that gives the readers the information they need. Create beneficial streaming-related entries by sharing your experience. People that appreciate your content may find their way to your channel if you include your Twitch details on your profile.
3. Network on Twitter
Find broadcasters you like and follow them on Twitter, retweet their posts, and love their content. Don't try to sell yourself; instead, give back to the community. Share memes, thoughts on any subject, gaming-related content, amusing observations, and so on. Be proactive and take advantage of the possibility to chat with anyone on the internet.
4. Join Communities (Social Media, Discord Channels, Reddit)
Twitch communities help streamers build a following and expand their network. They assist in connecting with other broadcasters, forming collaborations, and joining Twitch teams to grow a channel's audience. There are a lot of great Twitch communities out there.
Consider creating your own Discord server as well. If you create your own Discord server for your branded channel, your Twitch followers will have a place to hang out. Consider it the start of your own community, which you'll develop over time. You'll be able to communicate with your audience, play games with your subscribers, and get valuable feedback from people who care about your business. It can also be used to contact other broadcasters and potential viewers.
12. How To Get Good At Streaming on Twitch
Every streamer starts small, and getting viewers on Twitch can be challenging. Try to maintain calm mindset if you get overwhelmed when establishing your brand. We believe there are two main pillars on the streaming's improving path:
1. Practice
The idea is to just keep streaming since the anxiety of not being good enough will eventually fade away. Consider your first few streams to be a warm-up. Only a tiny percentage of people are streaming at ease immediately. It's fine if you want to hide your face from time to time or keep silent. But streaming in general should never be avoided.
Don't be afraid to be yourself and laugh as much as you can. Don't be scared to make fun of yourself or your stream if something goes wrong. Suppose you can laugh at a problem rather than feeling upset or disappointed. In that case, your audience will be more likely to stick around.
2. Taking risks
Don't be scared to experiment with your content, promotion, communication style, your look, whatever. Discover ways to do something risky where others would play cautiously. Regardless of the subject of your broadcasts, think of new methods to stand out and be unusual. Going too far outside the box in the wrong direction can negatively impact your channel. That is, after all, why they are called risks!
13. How To Engage With The Audience
Small streamers are often seen silently playing their game. For a viewer, this can be somewhat tedious. To connect with people while streaming, you must engage with your audience. Initially, it could be tricky to communicate and play simultaneously, but it will come with practice. Talk to your audience, ask them questions, and have a conversation with them. And if there is anyone to talk to, explain what you're doing and why you're doing it. This way you can practice as a streamer at any time.
14. What To Expect?
There will be bright and dark times for you as a streamer. But you can prepare by knowing different aspects of the experience.
Good moments
New friends. Twitch is a fantastic method to meet others who share your curiosities. With so many games and interests streamed on Twitch, you'll undoubtedly make some new pals.

A sense of belonging. You could be a part of a community when networking with other streamers, making friends, and participating with their material (both on and off Twitch).

Good time. Let go of all expectations and simply enjoy the streaming experience for what it is. People may or may not show up, but if you enjoy streaming, go ahead and do it.

Revenue. Many people talk about their Twitch payouts, which range from $100 to $600 over a few months.

Full-time job. You may now make Twitch streaming your full-time job once you have a large enough real fan base. If you put in the time and effort, becoming a full-time streamer may be a rewarding experience.
Bad moments
Trolling. On Twitch and other streaming sites, trolls and cyberbullies are frequent. They'll join your channel and attempt to disrupt it by insulting you or your viewers. Their remarks can range from little jabs at your gaming to outright racial slurs.

0 viewers. It's astonishing how often you'll find yourself streaming to no one. On Twitch, 95% of streamers have 0-5 concurrent viewers per stream. Keep moving forward until you reach your destination and discover your passion in the streaming process.

Burnout. Burnout will ultimately rear its ugly head, no matter how carefully you prepare. You must devise techniques to deal with it to keep yourself sane and your visitors satisfied. Live-streamers can avoid burnout by taking an unannounced break, changing their channel's emphasis, or attempting something new. Burnout is less common in people who live a balanced life and regulate their streaming activity than in those who stream for many hours every day.
15. Consider Other Platforms
Even though Twitch is the most popular service, it may not be the ideal solution for everyone. It's easy to get lost in the crowd on Twitch because it's such a vast platform with so many users. As a result, many individuals are looking for Twitch alternatives to build an audience.
1. YouTube Gaming
YouTube Gaming is one of the greatest Twitch alternatives. It has many of the same features for both streaming partners and gamers. As a YouTube Partner, streamers can earn money from commercials as well as services like channel subscriptions when they have a large enough viewership.
2. Facebook Gaming
Because Facebook's live streaming service is newer, it is less advanced in many aspects. However, it still offers some important capabilities, such as esports event integration. Furthermore, as the name implies, it mainly focuses on video games.
It has a smaller audience, both a blessing and a problem. Although there are fewer potential viewers to reach, there is also less competition, making it easier to stand out. There are numerous self-promotion choices accessible if you have some money to spare.
3. Trovo Live
Trovo Live is one of the newest live streaming sites for video games. Tencent, the same corporation that holds Epic Games, Ubisoft, and Activision Blizzard, is behind the new streaming service. Trovo articulates that revenue options should be open to all streamers who want to build a living from live streaming and committees to assisting creators who support Trovo.
It's quite easy to get started since Trovo has the Streamer Onboard program and Streamer Academy. It's walking a user through every live-streaming adventure step and teaches how to get started.
4. All of these. Multistreaming
But maybe the question isn't whether you should use Twitch, YouTube, Facebook, or Trovo to broadcast your streams. All of these platforms are fantastic. Each has its own set of advantages, however, if you want to establish a following, multistreaming is the best way to proceed. The goal is to stream to places on the internet where your visitors are already "hanging out."
16. Making Money From Streaming
How much do streamers make on Twitch? A modest streamer with ten average viewers can earn roughly $50 per month. In contrast, a streamer with 100 average viewers can make up to $1500 per month. Depending on the number of average views, big streamers might earn anywhere from $5000 to $30,000 each month.
Twitch streamers can make money on and off the platform in a variety of ways:
Subscribers

Donations and bits

Advertisements

Sponsorships

Merch

Affiliate Marketing

YouTube

Subscription-Based Services

Ad Revenue
 
Check our guide on How to Make Money on Twitch for an in-depth dive into all the ways you can monetize your streams!
You should have no trouble adding a business component to your streaming process as long as you stay true to your audience and only advertise and sell goods that you believe would benefit them.
17. Handy Tips
Now that you've completed all of the steps in the preparation process, we'd like to highlight some live streaming advice so you may become a pro in no time:
Collaborate with other streamers

Raid other streamers before ending your stream

Upload creative stream highlights to YouTube, TikTok, Instagram, Twitter

Don't stream over-saturated games

Read our blog for more tips
In Conclusion
You've made it to the conclusion of our list of how to start streaming! Here's a quick rundown of everything you should keep in mind before going live:
Learn what is game streaming in general

Learn your chances to become a successful streamer

Set goals for your streaming path

Create a foundation of your personal brand

Set up a streaming space

Create a Twitch account and review the community guidelines

Customize your channel

Optimize your hardware setup

Select and set up your broadcasting software

Learn how to stream from consoles or smartphones

Promote yourself

Learn how to get good at streaming

Learn how to engage with the audience

Learn what to expect

Consider other platforms

Learn how to make money on Twitch

Learn the tips

????

Kudos!
It's as simple as that. With these considerations in mind, it's time to set up Twitch, activate your camera, and do what you do best. Don't become discouraged. The road to success is long and winding, but you will finally succeed if you stick with it.