700+ Twitch Panels Bundle
Please welcome - Twitch Panels Mega Bundle. This package includes 20 different design types for any taste - from cute pixel art panels to futuristic sci-fi layouts.
Get it Now
700+ Twitch Panels Bundle
Twitch Panel Templates
Get a separate panels package that fits your aesthetic. Each one comes with 36 ready-to-use panels and a .PSD template to get deeper into customization.
What are Twitch Panels?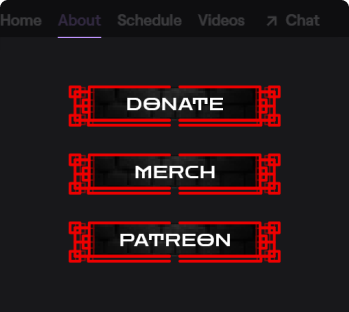 What are Twitch Panels?
Twitch panels are images, text blocks or interactive extensions that you can place in the About section of your Twitch profile.

They provide your viewers with useful information about your stream and effectively convey your branding. Commonly used panels include images with links to your social media profiles, donation and subscription pages.

On top of that, Twitch allows you to use special markdown to stylize plain text under your panels with emphasis, lists, quotes and headings.
How to Add Panels on Twitch?
Log in to your Twitch account
Click on your profile picture at the top-right side of the screen and go to "Channel"
Click the "About" button under the channel name
Click on "Edit Panels" at the bottom of the screen
Press the + window and choose "Add a Text or Image Panel"
Press "Add Image", choose the panel you want to upload, and press "Done"
Then add a description text and URL (if needed) to the other fields
That's it! Your panel is up and running :)
Twitch Markdown Guide
Markdown allows you to customize the text under your panels even further. You can emphasize it, add headers, links, lists and much more. Use the cheat sheet below to get started quickly.
Text Emphasis
Link
[Link](https://kudos.tv)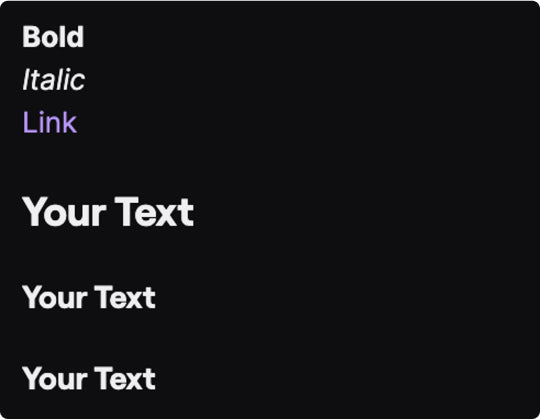 Text Formatting
Nested Quote
>>This is a nested quote!
Lists
Unordered list
* Item 1
* Item 2
* Item 3
Ordered list
1. Item 1
2. Item 2
3. Item 3

Frequently Asked Questions
What size are Twitch panels?
The maximum twitch panel width is 320 pixels. Take note that it will automatically resize your panel to 320px, whether it is broader or narrower. This resize might result in a distortion that affects their overall look and makes them absolutely unusable. Panel height provides greater flexibility as you are not so limited. This way you can create narrow panels, square or wide rectangular ones although we suggest setting the height to 70px. This is typically the best size to include a line of text and an icon. And, of course, panels of this size will work well in any situation.
How to make Twitch Panels?
There are dozens of ways to make twitch panels from scratch. The best and, obviously, the hardest one is to use a design software such as Adobe Photoshop or Illustrator, it allows you to take control of each aspect of your panels but the learning curve is a bit steep and such software is not cheap. Another way is to use one of twitch panel makers available online. This way is faster and easier but the editing possibilities are a bit limited and if you're not a designer the outcome will probably look a bit amateur. The easiest way is to get one of predesigned template (like the ones above). That way you'll have professionally looking panels with customisation options.
How many panels can you have on Twitch?
Can Twitch Panels be animated?
Regular twitch panels can't be animated but there are some extensions that allow you to get some premade animated panels. Unfortunately, you can't edit them as deep as the native ones and you're limited to only 3 extension panels in your about page.