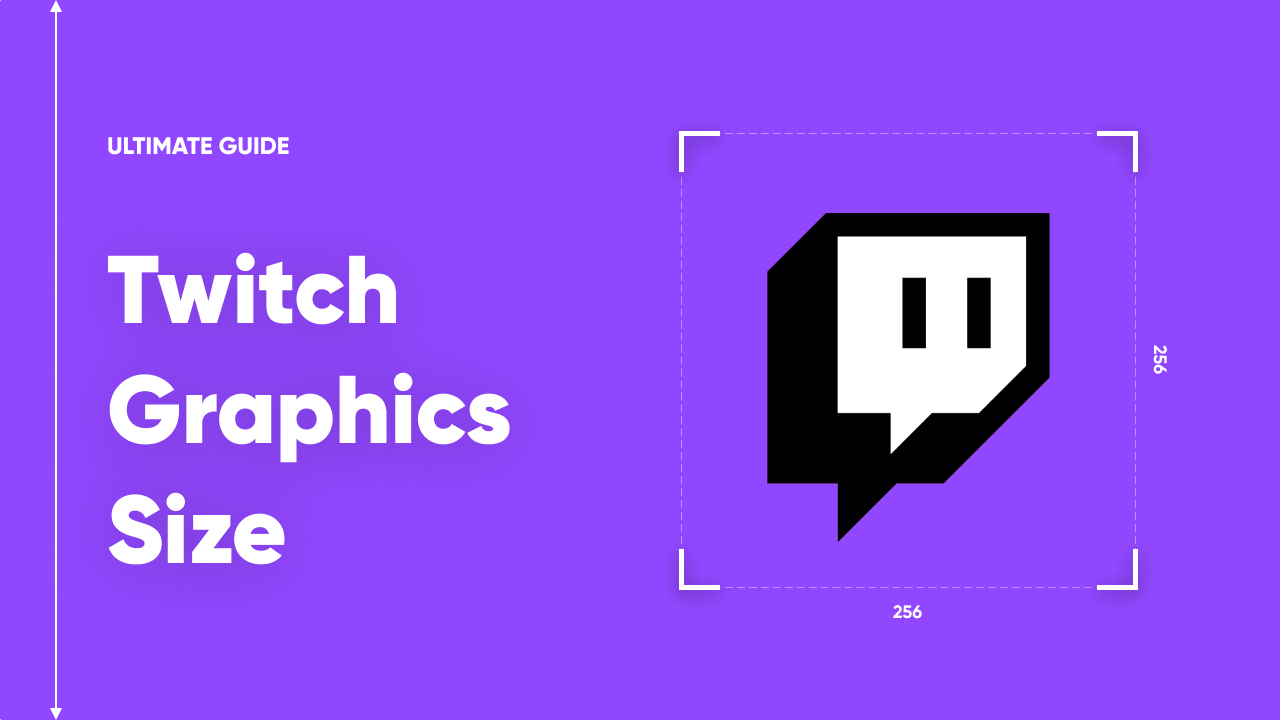 One of the most essential components of becoming a streamer is creating your Twitch channel page. Your channel page will be the place where your viewers and other users can learn more about you and your stream.
This guide will provide you with the ideal size and ratios for all of the items you may use on your stream - from banners and profile pictures to twitch overlays and widgets. These Twitch size recommendations are based on the most recent Twitch revisions. This guide is for you if you create your artwork or want to ensure that your current designs are compatible with the latest changes in 2023. And don't worry, we will update this post with any new changes to come.
---
| | | | |
| --- | --- | --- | --- |
| Graphics Type | Dimensions | File Type | File Size |
| Twitch Profile Picture | 256 x 256 px | PNG, JPEG, GIF | 10MB |
| Twitch Profile Banner | 1200 x 480 px | PNG, JPEG, GIF | 10MB |
| Twitch Webcam Overlay | 1280 x 720 px (16:9), 800 x 600 px (4:3) | PNG, WEBM | 10MB |
| Twitch Offline Screen | 1920 x 1080 px | JPEG, PNG | 10MB |
| Twitch Panels | 320 x 70 px | PNG, JPEG, GIF | 2.9MB |
| Twitch Alerts | 800 x 600 px | PNG, WEBM | 3MB |
| Twitch Emotes | From 112 x 112px to 4096 x 4096px | PNG, GIF | 1MB |
| Twitch Badges | 18 x 18 px, 36 x 36 px, and 72 x 72 px | PNG | 25KB |
Twitch Profile Picture Size
The profile picture (or avatar, as we call it) is the most prominent part of your profile. Whether you want to use a beloved image of yours or apply specific branding, this image will be one of the first impressions you create on viewers.
Dimensions: 256 x 256 px
Maximum File Size: 10MB
Accepted File Types: PNG, JPEG, GIF
Twitch Profile Banner Size
The perfect size for a Profile Banner is 1200x480px. Twitch pages (including your banner graphics) scale accordingly to the width of each user's browser window. Images shorter or taller than 480px will be resized to 480px high. Images will also be stretched if a user's browser window is bigger than the image's width. To achieve a uniform look across all display resolutions, make your image as broad as possible and focus the visuals on the left side of your artwork.
Dimensions 1200 x 480 px
Maximum File Size: 10MB
Recommended File Types: JPEG, PNG, GIF
Twitch Webcam Overlay Size
There are two main webcam aspect ratios to consider here: 16:9 or 4:3, so your option will be determined by your webcam's resolution. Although 16:9 webcam frames are more frequent, some streamers prefer 4:3 webcam overlays.
For static webcam overlays, use transparent PNGs - that's the best option you can ever use, thanks to its support of transparency and small file size. For animated webcam overlays, we strongly suggest using WEBM since it supports transparency and has the smallest file size possible. While you can use transparent GIFs too, the file sizes will be large, which may drastically affect your stream performance.
Dimensions: 1280 x 720 px (16:9), 800 x 600 px (4:3)
Accepted File Types: PNG (Static), WEBM (Animated)
Looking for a webcam overlay to enhance your stream? Check our webcam overlay collection - we've designed dozens of webcam frames to complement any style you may be looking for. Don't want to spend yet? Try our free pack of neon webcam overlays!
Twitch Panels Size
Having stylish Twitch panels improves any Twitch profile significantly. The maximum panel width is 320 pixels. Twitch will automatically resize your panel to 320px, whether it is broader or narrower. This resize might create distortion that affects their overall look and makes them absolutely unusable.
Panel height provides greater flexibility and creativity, although we suggest setting it to 70px. This is typically the best size to include a line of text and an icon. And, of course, panels of this size work well in any situation.
Dimensions: 320 x 70 px
Maximum file size: 2.9 MB
Looking for free twitch panels? Our free twitch overlays come with customizable .PSDs and dozens of premade panels for your twitch profile. Want to go even deeper, we've made a free twitch panels bundle with hundreds of preconfigured panels and dozens of customizable templates 
Twitch Offline Screen Size
Twitch offline screen has the most apparent size specs. The size of the Twitch video player is 16:9. Thus your offline banner has to match this aspect ratio. For that reason, the best option is to have dimensions of 1920 x 1080px. This leaves you with a large and sharp image that looks great even on 4k screens.
Dimensions: 1920 x 1080 px
Maximum file size: 10MB
And don't forget that each of our stream overlay packages has a dedicated offline screen for you to use.
Twitch Alerts Size
We stick to an 800 x 600px resolution for making our twitch alerts and encourage that you do as well. While this is the typical size for an OBS browser source or a Streamlabs alert box widget, it still gives you plenty of flexibility to customize your alert design.
The maximum alert file size for Streamlabs is 10MB, whereas 30MB for StreamElements. However, you should always attempt to keep your alerts under 3MB in size. However, maintaining a small file size guarantees optimal performance across any streaming application you can use (Such as OBS Studio or Streamlabs).
Use transparent PNGs for static alerts - they're the ideal option since they allow transparency and have a tiny file size. WEBM is the best option for animated alerts. It enables transparency, has a small file size, and gives you the best quality.
Dimensions: 800 x 600 px
Recommended File Size: under 3MB
Maximum File Size: 10MB (Streamlabs), 30MB (StreamElements)
File Types: PNG (Static), WEBM (Animated)
Wondering if we have premade alerts? We've got you covered - explore our library of the best animated twitch alerts that work not only with Twitch but with Youtube and Facebook as well.
Twitch Emotes Size
Twitch emotes are a fantastic way to personalize your channel and reward your followers and viewers. Please keep in mind that emotes are only available to affiliates and partners. They must be submitted to Twitch for approval before being used on your channel. Due to a new update Twitch asks you to upload only one size of the image with a resolution between 112 x 112px and 4096 x 4096px with a file size of 1MB
Oh, and make sure your emotes are in PNG format with a transparent background and less than 512KB in size.
Dimensions: From 112 x 112px to 4096 x 4096px
Maximum File Size: 1MB
File Types: PNG, GIF
Twitch Badges Size
When someone subscribes to your twitch channel, they will get a subscriber chat badge, which will appear next to their name when they engage in your channel's chat. As your subscribers spend more time on your channel, they will hit milestones that you may personalize with additional badges to reward them for their continuing support.
Unlike emotes, badges do not need Twitch approval and may be applied to your channel as soon as you are ready. Each badge must have the following dimensions: 18 x 18 pixels, 36 x 36 pixels, and 72 x 72 pixels.
Dimensions: 18 x 18 px, 36 x 36 px, and 72 x 72 px
Maximum File Size: 25KB
File Types: PNG