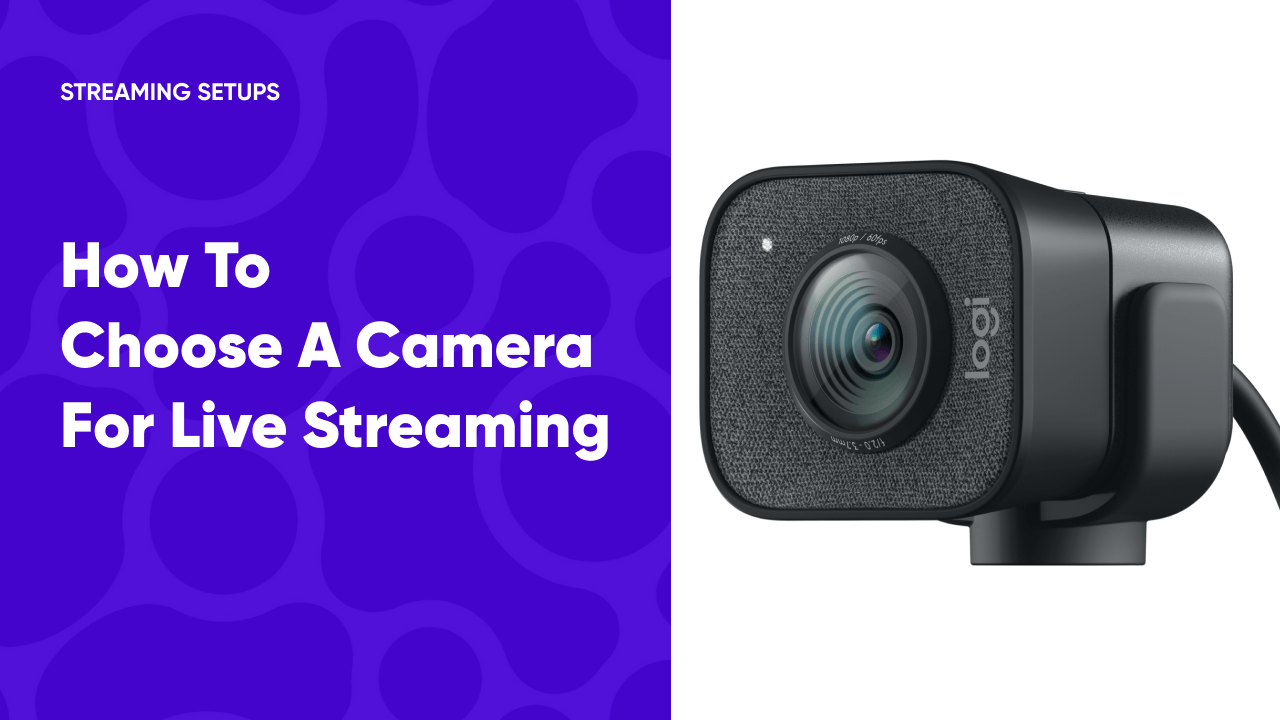 Selecting a decent camera is essential if you are just beginning your streaming career or want to update your equipment. It provides a positive experience for your viewers and, as a result, increases the number of people who follow and subscribe to your channel. Sure, you can use the native camera on your laptop or desktop computer, but let's be honest: a fine streaming camera's results will be dramatically better. That's why we've compiled this guide to assist you in selecting the coolest camera for live streaming. We've organized our recommendations into sections, so you can learn about different camera categories and choose the one that suits you best. Let's get started!
What Type of Camera is Best For Streaming?
You may use several kinds of cameras for streaming: webcams, camcorders, action cameras, DSLRs, and mirrorless cameras. In some situations, one camera type is clearly superior to the other. But there is no unified answer as to which type is the best; it depends on your goals, budget, and, obviously, your personal preferences.
Webcams
A webcam is a great, budget-friendly, and simple solution for streamers.
Fast setup. Start streaming right away by plugging the webcam with USB into your computer.

Affordable. Webcams are typically less expensive.

Great results for the price.
On the other hand, the video quality is far from the best on the market, and you don't have complete control over the video capture aspects. Overall, webcams are ideal for streamers that want a quick set-up, are on a budget, or don't require a high-end picture.
Camcorders
Camcorders are the next step up from webcams. They're a type of standalone camera that's made for numerous hours of filming.
Low to mid-range budget. Camcorders are suitable for both modest and medium budgets.

Simple to use. Camcorders are easy to operate, making them great for any live broadcaster.

Long battery life. The prolonged battery life is a huge plus, especially if you plan to use your camcorder for anything beyond streaming.

Compact and easy to carry along. If you want to stream on the move, a camcorder's mobility and small size will be advantageous.
Camcorders are a great mid-range device. They're practical and efficient, as well as simple to use and capable of producing excellent videos.
Action Cameras
Although an action camera may appear to be an unusual choice for live streaming, it could be a fantastic alternative.
Robust and portable. Action cameras have a lot of power. They're little, but as their name implies, they're ready for action — ideal for high-quality video streaming on the move.

Superb for fast-paced video. Action cameras are made to get right in the middle of the action and are ideal for recording dynamic footage (think sports).

Solid. Action cameras are built to withstand any situation, so you don't have to be concerned about a little harsh handling.
Action cameras are an excellent choice for live streamers who are constantly moving and on the go. They provide flexibility while never sacrificing quality.
DSLR & Mirrorless Cameras
The video quality and control you have over the exact specifications of each shot with professional-grade mirrorless and DSLR cameras are incomparable. However, the price tag is as well.
Marvelous quality. DLSRs and mirrorless cameras capture video in ultra-HD, crystal-clear resolution.

Changeable lenses. The interchangeable lens option distinguishes DSLR and mirrorless cameras from other camera types.

Extensive control. They allow you to achieve whatever picture you want, adjusting the exposure and lighting settings.
If you're a pro streamer, you should consider purchasing a DSLR or mirrorless camera. The HD quality is unrivaled and will help you achieve the highest possible production quality.
What to Look For in Cameras
Video Resolution
The video resolution is the most essential aspect to consider when purchasing the finest streaming camera. Simply put, a resolution is the amount of pixels on a screen. Three tires of high-definition resolution are 720p (regular), 1080p (ultra-high-definition) and 4K. Although 720p may be enough for some, a 1080p streaming camera is preferable, and a 4K resolution camera gives you the highest video quality. There aren't many platforms that allow you to live broadcast 4K video right now – but it's only a matter of time.
Connector type
One of the most popular video connector types is HDMI. It has three types: HDMI micro, HDMI mini, and full-size HDMI. Check which one your camera uses, and be prepared to purchase adapters if necessary. There is also an SDI connector type, which is faster than HDMI. SDI connections are commonly required by industry specialists and can be found on high-end gear.
Although it isn't necessary, picking a camera with a wide range of input and output options will provide you with much more flexibility.
Autofocus
Autofocus simply means that the camera determines where the subject is in the frame and focuses its attention there. This is quite handy since it allows you to move around your frame or display a close-up of something. 
But here's a flip-side factor: autofocus volume. Microphones may pick up and spoil the audio if the camera makes a lot of noise when focusing. So before making a purchase, we recommend doing some internet research to see what other people have to say about a camera's focus.
Frame Rates
The frame rate is the number of unique pictures that make up a second of footage. Standard frame rates, such as 24 to 30 frames per second, are acceptable when the object is stationary and moving just slightly. 60 frames per second or more frame rate is recommended for high-end content, and it allows you more flexibility at the editing stage (for example, you can make some cool slow-mo shots with a higher frame rate).
Stabilization
The camera's vibration reduction or stabilization feature is critical if you stream IRL. You need to have a camera with image stabilization to capture your moving moments without blurriness.
Overheating
The camera overheating may become an issue if you want to stream for more than an hour. Some mirrorless and DSLR cameras might overheat, especially when powered through USB. One technique to avoid this is using a false battery and an AC power adapter instead of USB power. Despite this, some cameras are just more susceptible to overheating than others.
Simultaneous streaming and recording
Check to see whether your camera can live stream while recording. In this case, you can save a recording of your stream to use it later.
Also, check out other tips on the best lighting and the best microphones for streaming to find the ideal setup for you.
Do I Need a Capture Card to Use a Camera?
Can you attach your camera to a computer through an HDMI or USB connection and start streaming right away? The short answer is no. Connecting USB webcams to a computer is simple (since they are plug-and-play devices), but connecting an "actual" camera is a little more complicated.
To begin with, the HDMI port on your computer is almost always an OUT port, not an IN one. Second, your camera's little USB connector was built for sluggish data transfer, not the continuous, quick, high-resolution picture transfer that streaming requires. In most circumstances, the only way to record video for live streaming is via HDMI. Finally, HDMI video capture necessitates specific drivers, which are not available on most PCs.
A capture card is required to capture HDMI video from a camcorder, DSLR, mirrorless camera, or any other non-USB camera. A capture card is a piece of hardware that converts the video signal from your camera into a digital video format that your computer can interpret. Capture cards are available in various resolutions (HD, 4K) and connection types (HDMI, SDI, VGA, DVI). By the way, we covered everything you must know about capture cards here.
Final Thoughts
As previously stated, there is no such thing as a "better" or "worse" streaming camera. It all comes down to what you value and prioritize in your live streaming setup. A webcam is definitely the way to go if you prefer simplicity over high-tech technology. If you value quality, you should consider a higher-end DSLR or Mirrorless camera.
Consider budget, setup, output resolution, autofocus, frame rate, and mobility when selecting a camera for streaming.

Choose between webcams, camcorders, action cameras, and DSLR/mirrorless cameras.
Do you want to learn more about the ins and outs of Twitch streaming? Take a look at this How to Stream on Twitch guide. The path to a successful streaming career could be long and difficult, but if you maintain your focus and commitment, you will ultimately succeed. And we are here to help with it. Kudos!