About
Immerse yourself in cuteness with Kawaii OS — adorable stream alerts inspired by an anime-infused, Y2K-style computer OS. Choose from three color variations: white, black, and colorful, and delight your viewers with cute interface elements from their favorite anime worlds. These alerts are part of the Kawaii OS Stream Package. Works with Twitch, YouTube, Facebook and supports OBS Studio, Streamlabs, and StreamElements.
What's Included?
Stream Alerts
3 Cheer Alerts

3 Donation Alerts

3 Follower Alerts

3 Host Alerts

3 Like Alerts

3 Member Alerts
Even More Alerts
3 Raid Alerts

3 Share Alerts

3 Star Alerts

3 Subscriber Alerts

3 Superchat Alerts

3 Supporter Alerts
Quick Installs
Streamlabs

StreamElements
Bonus Content
Alert .WEBM Files

Sound Effect
This product is a part of the Kawaii OS Stream Package
Get a full stream overhaul with complete pack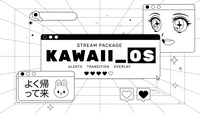 How To Setup
How To Install Alerts?
Full Setup Guide
READ
Frequently Asked Questions
What is the difference between static and animated overlays?
Static versions of our overlays include mostly .png images with transparent background - it's a great choice if you don't want to overload your PC. Animated overlays, on the other hand, are packed with seamlessly looping videos with gorgeous effects and animations - that's your choice if you want to take your stream to the next level. But don't worry, our static packs have some animated assets that won't affect your PC's performance - alerts and stinger transitions are animated in any pack of your choice.
When will I receive my order?
You'll receive your order instantly after successful payment.
Can I get the source files?
Although we don't usually provide the source files, there may be some exceptions, such as customizable .PSDs or After Effects project files. You can find the relevant information in the contents section of each product page.
Where is my download link?
You can access your download link in 3 places: 1) Instant access after a successful purchase 2) E-Mail letter (don't forget to check your spam folder, if you haven't received the letter) 3) Orders section in your profile (if you have an account). If none of these work, please contact us with the number of your order through the beacon located at the bottom right corner of our website.
Since your purchase is a digital product, it is deemed "used" after download or opening, and all purchases made on KUDOS.TV are non-refundable or exchangeable. Since the products made available here are intangible, there is a strict no refund policy. The onus is on you, as a consumer, to make responsible decisions about the purchases you make online.
My overlay isn't working, what should I do?
The most common cause of this problem is that your overlay's folder wasn't extracted to C:/ drive. Just extract the archive with your files directly to the C:/ drive of your computer, import your OBS scene files from there and everything will work straight away. In case you're still having issues feel free to get in touch and we'll do our best to help you!
Featured products
Kawaii OS

Kawaii OS Transition

Kawaii OS Overlays
Other Products You Might Like
Still Got Questions?
Ask Us
Anything
CONTACT US
Knowledge
Base
OPEN HELP