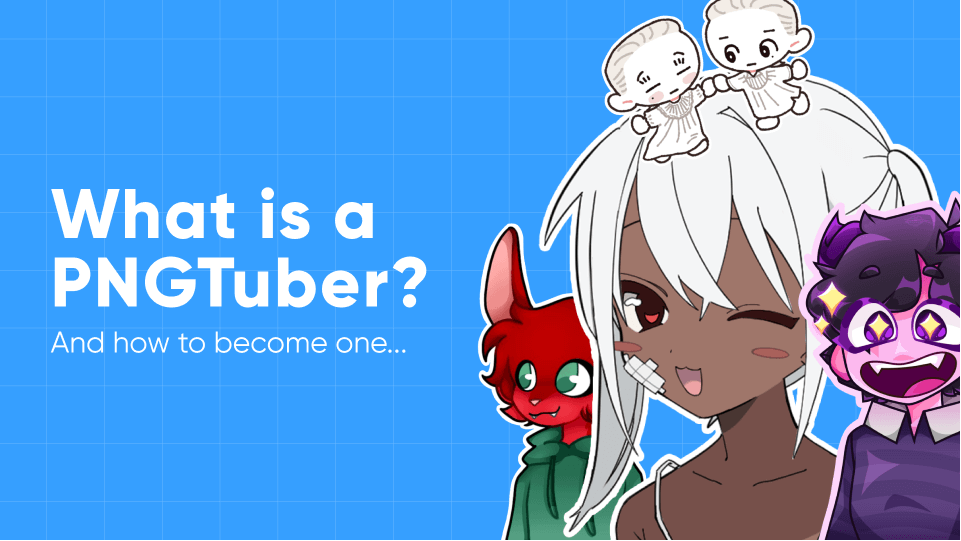 With the meteoric rise of virtual influencers over the past years, they've become part and parcel of the internet culture, specifically such popular platforms as Twitch and YouTube. If you've already got acquainted with our article about
Vtubers
, you comprehend this phenomenon and understand that creating a 3D or 2D character from scratch may be challenging. So, here comes the question: how to try yourself as a virtual streamer without spending many resources on making a character? Whether you feel like trying a demo version of being a Vtuber or want to avoid cameras, PNGTubers solved the mystery for you and found the fastest and cheapest method to achieve this goal. 
What is PNGTuber
Being a PNGTuber essentially doesn't vary much from being a 2D or 3D Vtuber, and the crucial difference lies in the simplification of processes. They also refuse to use their actual face online and choose PNGs as their virtual avatar instead. Usually, they use dozens of cartoonish pictures and animations demonstrating different emotions and mess around with voice-changing settings to breathe life into the character. The spectrum of activities depends on a creator's imagination and creativity, so there are no limits except Twitch and YouTube Community Guidelines.

Despite the description, which assumes PNGTubers to be amateurish and roughly made, there are plenty of techniques to hold viewers' attention and stand out from the crowd. To get some valuable tips and take a step towards a PNGTuber career, keep reading and go through the entire process with us!
How to Become a PNGTuber
Step 1: Determine your ambitions and ponder over the key traits of your avatar
First and foremost, ensure the future of your avatar by indicating the main objectives and creating a general plan for your venture. Then think about your character if it was a real person - what traits would it have? Is it gonna be cute, funny, serious, or angry? Spend some time working on this aspect, as it will determine everything you will do next. Proper planning and understanding of a personal brand will give you some insights concerning a streaming career on a silver platter. Then, first achievements will grow motivation, and you'll be able to move further up the career ladder.
Step 2: Set up your workplace
Compared with a conventional YouTuber or 2D and 3D Vtuber career, you do not need as careful preparation, and it's a bright side of choosing PNG type. Nevertheless, a decent PC, webcam, and microphone will not hurt anyone. You really do not have to spend all the money on hardware because it's not a matter of life and death in this case, but you'll save yourself from sudden bugs and make your streaming process much more enjoyable. Another thing that might help to tune in to the right wave is to arrange and decorate your room in the most comfortable possible way. No one will see your workspace but you, so rely on your habits and preferences to achieve a design that can physically and emotionally support you. 
Step 3: Create a character
You'll need at least two picture variations to get started – with your character's mouth open and closed. The more the better, but you can begin with a minimum. Now we move on to specific ways of creating PNG models, going from complex to simple solutions:
Consider using premade PNGTuber software. For instance, Veadotube Mini is an application for Windows, Linux, and macOS available for your own price! You can make your avatar blink, add multiple expressions and gestures, and switch between them with the help of hotkeys. Both static and animated PNGs and GIFs are supported to allow more freedom in customization. 

PngTuber Maker is a free software option that provides all mentioned above about Veadotube Mini. In addition, you get backgrounds, avatar accessories, a desktop mascot, and the function to detect surrounding sounds for the automatical changing of emotions.

Basically, PngTuber Maker's only drawback is that it's only compatible with Windows, but Gazo Tuber returns the balance because it's for macOS exclusively. Simple but lively animation, shakes when screaming, darkened effect, and GIF support form the sufficient bare minimum, but it's enough for the majority of users.

Finally, Reactive by Fuji is the most straightforward tool for Discord users who want to add a personal touch to their voice calls. You log in to Discord and adjust the image settings right over there. All of the above are easy and lightweight options, so feel free to try each!
Hire a professional and get rid of the hassle to the hilt. Be careful and research artists' previous groundwork before buying an avatar because sometimes people resell what belongs to others, and that's not exactly what we're looking for. To guarantee a satisfactory outcome, describe the concept of your future second self in-depth and boldly share any references and additional suggestions initially.
Step 4: Last preparations (choose a platform, streaming software, and find inspiration)
All right, you're done with all the specific PNGTuber preparation troubles, and now you should choose streaming software. Streamlabs and OBS studio are recognized leaders in the industry. Still, you can find a handful of brilliant alternatives and compare their strengths and weaknesses to deduce your best choice. 
Step 5: Make content!
It's time to implement all your video ideas! Remind yourself about the plans and goals from Step 1, do your best, and have fun because, essentially, that's the whole point of being a PNGTuber, like any other content creator. 
Famous PNGTubers
Saberspark
YouTube: 1,73M followers Twitch: 85,9K followers
Saber has been in the industry for years, and he's mainly known for video essays and reviews about cartoons and the issues of animated studios ranging from Sony Animations and Cartoon Network to Disney and Pixar. He prefers to search for total flops, which are hurtful to watch, but occasionally shares some hidden gems. Engagement of the audience is significant for Saberpark, so he interacts with fans a lot, taking Twitter opinions and requests of what to cover in his following videos seriously and being proud of each fanart he gets. 
JellyBean
YouTube: 4M followers Twitch: 364,8K followers
JellyBean is famous mainly for reaction content using Minecraft parkour games as a background. They launched Twitch and YouTube at the beginning of 2021, and by the end of the year, the viewership had grown to almost 20 million per week. After they'd become popular in an insanely short time, a wave of criticism collapsed. In February 2022, you would see plenty of blistering YouTube reviews on JB's channel and the hashtag #jellymid all over Tiktok. Still, PNGTuber handled the problem well and turned it into a new category of videos where they're reading awful comments and making fun of them. 
RedVelvety
YouTube: 1M followers Twitch: 51K followers
RedVelvery enjoys making Minecraft and Variety content. They began using a PNG avatar in December 2021 and has become famous thanks to that decision. Their approach to creativity is similar to JellyBean's, so their channels are compared eerily often.
Controversy
Criticism always comes with the growth of popularity, and PNGTubers are not the exception to this axiom. Many regular viewers and even popular YouTubers have recently called PNGTubing a lazy approach to content creation. Wacky TV and Memus were among the first big channels to attack PNGTubers, specifically JellyBean, but they were far from the last. It's partly true because this niche is rather new and not yet tied up, so it has a low entry threshold. Still, it can be an advantage –  if you put slightly more effort into these kinds of videos and learn from others' mistakes,  your PNG avatar will be more likely to get a lot of attention and views.
Outro
You've made it to the last and the most crucial advice here. Remember that before becoming a recognized part of the online ecosystem, every new YouTube phenomenon – horror narrations, lifestyle vlogs, parody videos, or VTubing – went through a "cringe" phase. So if you have doubts about becoming a PNGTuber just because of the level of hate, let it go and allow yourself to open the doors to a new amusing area of life and create what you crave.